Mobile mapping systems have revolutionized the mapping and scanning industry by providing increased point cloud coverage and scanning speed compared to traditional terrestrial laser scanners. This advancement can significantly reduce time on-site, leading to cost savings for service providers, equipment manufacturers, and building interior documentation.
Despite the benefits, some hesitation remains about fully adopting mobile mapping systems due to concerns about data quality and the smooth integration of Scan to BIM or Scan to CAD processes. However, understanding the various applications and the capabilities of mobile mapping can dispel these uncertainties and open up new possibilities for efficient and accurate as-built documentation.
Drafting 2D As-Built Conditions in CAD
Creating 2D floor plans and elevations can be achieved by using vertical and horizontal slices with decimeter thickness, serving as blueprints. By utilizing Navvis point cloud data, elevations and floor plans can be drafted at scales of 1:100 or 1:50, providing detailed and accurate representations of the structure.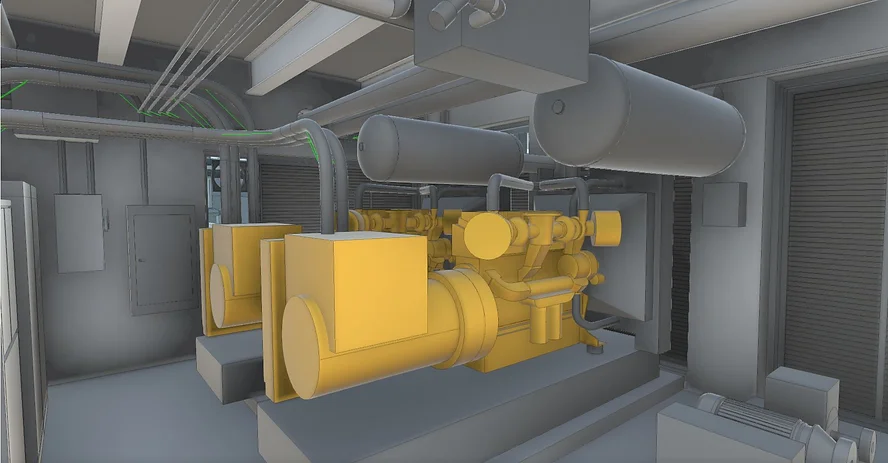 3D Modeling of As-Built Conditions
The demand for Building Information Modeling (BIM) is growing, driven by governmental mandates and corporate clients' requests for BIM deliverables in private projects. Autodesk Revit is a valuable tool for importing and managing data obtained from scanning sites or structures. Once the import is completed, the modeling process begins by structuring the point cloud according to building levels and relevant elements, allowing for detailed 3D models of the as-built conditions.
Simulation and Visualization with Point Clouds
Point clouds are widely used in industries like oil, gas, and chemicals to represent the as-is condition of facilities without the need for remodeling existing conditions. Navvis's advanced technology enables fast and accurate scanning, producing point cloud data with high realism and low noise, suitable for visualizing complex industrial spaces and equipment.
Object Extraction in 3D Modeling for Efficiency
Manual modeling based on point clouds can be time-consuming and expensive, particularly for as-built BIM documentation requiring various levels of detail (LOD). Automatic or semi-automatic object extraction tools, like Edge Wise software, are becoming increasingly popular for generating building components, structural elements, and pipes from point clouds. This streamlines the process and improves efficiency, reducing the need for extensive manual modeling.
Details of Navvis Data Quality
Navvis stands out for its accuracy, relevance, and minimal drift due to its proprietary SLAM algorithms, which combat drift challenges faced by all-SLAM-based mobile mapping systems. Navvis post-processing software optimizes data accuracy and reduces noise levels, preserving geometric details and providing clear resolution and texture in the 3D point cloud. Additionally, Navvis supports industry-standard formats like E57 point cloud format and collaborates seamlessly with leading software vendors for object extraction and vectorization.
Mobile mapping systems have immense potential for enhancing CAD and BIM as-built documentation. By leveraging the benefits of Navvis point cloud data and post-processing algorithms, professionals can improve efficiency, accuracy, and visualization, making mobile mapping a valuable tool for various industries and projects.